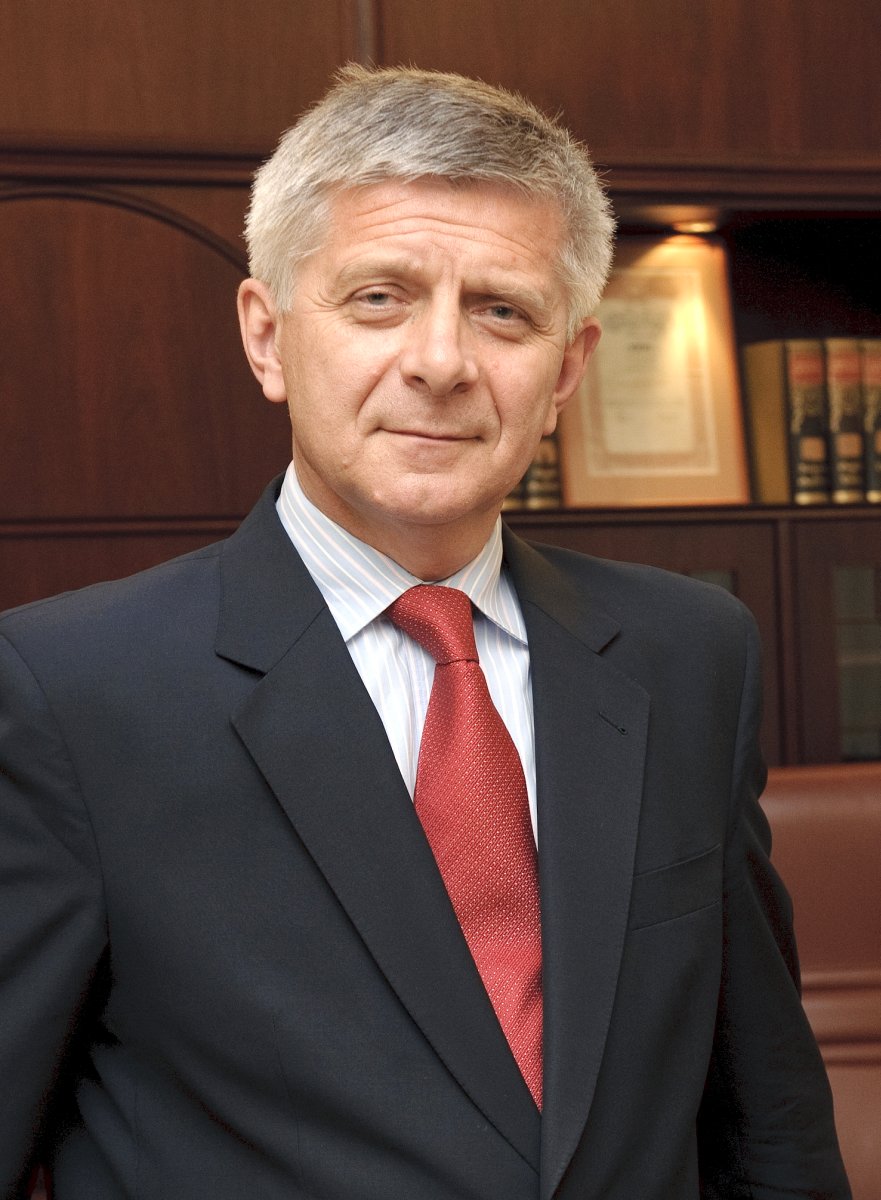 Dear Nominee,
Ladies and Gentlemen,
I have the honour of performing the exceptional and very pleasing task of introducing our nominee and his numerous achievements.
This task is most rewarding as the person is very special. My only doubts are that my words will fail to express recognition for a person who has rendered such great service to his country and to Europe as much as I'd like to.
I harbour no illusions that I will be able to present all of the virtues and abilities of Jean-Claude Juncker. Therefore, I count on your understanding, as no doubt, all of us present here today know our nominee.
Who is the Grand Man of the Grand Duchy?
I think that a very important element describing this figure is the country that has formed our hero – the Grand Duchy of Luxembourg, where Luxembourgish, French, German and English are all spoken. Is this important? Of course, it is. Due to this Jean-Claude can communicate with the majority of European citizens in a natural way. In a way, Luxembourg is the essence of Europe when we keep in mind that among its citizens, in addition to the representatives of the above-mentioned languages, we can also find Portuguese and Italians, as well as citizens of other EU states. Having in mind the fact that Jean-Claude grew up in an atmosphere rich in languages and traditions, he undoubtedly has an important feature worth emphasising: that of a Citizen of a United Europe.
Jean-Claude has been Luxembourg's Prime Minister for 17 years. Since 1984, he has also served in ministerial posts in the government (ministry of labour, finance ministry). I am sure the skills he acquired in the course of heading the government of Luxembourg for many years are useful in performing important functions in European institutions. Another key feature characterising Jean-Claude that is worth noting is his skill in negotiation. These elements are tied together.
What would Europe look like today were it not for people like Jean-Claude? We remember the year 1996, the success in Dublin – the Stability and Growth Pact. Reconciliation of the standpoints of France, who expected growth, and Germany, who rather wanted to focus on fiscal discipline. The conclusion culminated with the handshake of President Chirac and Chancellor Kohl. At that moment, Jean-Claude revealed his talent as the perfect negotiator.
This ability was enriched in 2005 by his organisational talent. Until that point, the prime minister of the presiding state of the Council of Europe had traditionally visited the capitals of other states when negotiating important issues. The situation became more complex when the number of capitals participating in decision-making increased to 25, following EU enlargement. Jean-Claude changed this direction and instead began to invite prime ministers to visit him to hold intensive bilateral discussions about finances for 2007-2013. I remember this very well, as I was prime minister of the Polish government at that time.
Jean-Claude managed the situation perfectly and that time was even able to reconcile different standpoints, including the British stance. Only such a man can be the head of the "Euro Group".
As we can see, Jean-Claude is an excellent negotiator and organiser. The attitude of our hero, I think, may be characterised by paraphrasing the motto of Terentius: "nothing European is alien to me". The words of Terentius were quoted by authors of the Renaissance, and Jean-Claude is the personification of a contemporary renaissance man in EU politics. As long as such persons as Jean-Claude Juncker are among us, we may assume that the crisis of the European Union is just a temporary complication.
Here, I must also mention the social sensibilities of Jean-Claude, his concern for the creation of new work places and the fight against unemployment.
Jean-Claude is fully aware that lack of work is the main enemy of a united Europe and a cause of tension amongst countries and governments.
Let's take a look at the hero of our meeting from a more personal perspective.
Does our hero, by chance, have any faults which, being a lawyer, he can busily use to his advantage?
Isn't an excessive love of tobacco a fault? In these times when there are practically no public places where you can quietly smoke a cigarette, this I would say, is an act of moral courage on the part of Jean-Claude. And the fact that here and there a fire alarm occasionally goes off only ads flavour to the cigarette smoke. I suspect the favourite book of our hero must be The Magic Mountain by Thomas Mann, as there we can find words that characterise him very well: "I never can understand how anybody can not smoke—it deprives a man of the best part of life, so to speak—or at least of a first-class pleasure. When I wake in the morning, I feel glad at the thought of being able to smoke all day, and when I eat, I look forward to smoking afterwards; I might almost say I only eat for the sake of being able to smoke—though of course that is more or less of an exaggeration." I think that even those who are against smoking can forgive Jean-Claude this vice in light of his credits.
While performing his many duties, Jean-Claude has always adhered to two principles: titanic work and modesty. Shortening distance with his collaborators, without fear of losing authority, is another example of our hero's talents. The numerous official meetings whose atmosphere is heated up by the presence of cameras and flashes do not impress him. Head of the Euro group, prime minister of a government, negotiator – he always plays the role of eminent diplomat equally as well as the role of tour guide telling tourists how to get to the Grand Ducal Palace (he's had such adventures, too).
Jean-Claude, please accept my congratulations on this occasion of receiving the BELA Foundation Award and when you can spare a moment, tell us how you achieved this state of perfection.
> return